El paso de la banda británica por la capital alemana no tendría más relevancia que otras veladas de esta gira si no fuera porque el concierto fue grabado para su futura edición en DVD (y Blu-Ray y CD).
El cineasta y fotógrafo Anton Corbijn, colaborador habitual de Depeche Mode desde tiempos inmemoriales, fue el encargado de dirigir la grabación de la primera noche (así como de filmar y entrevistar a los fans en la calle) y repetirá a los mandos en la segunda noche en el O2 World berlinés, que tendrá lugar este miércoles.
Las canciones interpretadas por Depeche Mode en el primer concierto de Berlín fueron 'Welcome to my World', 'Angel', 'Walking in my Shoes', 'Precious', 'Black Celebration', 'Should be Higher', 'Policy of Truth', 'The Child Inside', 'But Not Tonight', 'Heaven', 'Behind the Wheel', 'A pain that I'm used to', 'A Question of Time', 'Enjoy the Silence', 'Personal Jesus', 'Shake the Disease', 'Halo', 'Just Can't Get Enough', 'I Feel You' y 'Never Let Me Down Again'.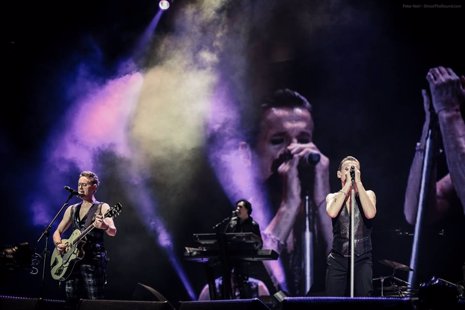 Dave Gahan, Martin Gore y Andy Fletcher están actualmente girando de nuevo por Europa, con un segundo tramo de conciertos después de los que ofrecieron el pasado verano. En esta etapa visitarán Barcelona (15 de enero de 2014 en el Palau Sant Jordi) y Madrid (los días 17 y 18 de enero de 2014 en el Palacio de los Deportes).
http://www.culturaocio.com/musica/noticia-depeche-mode-graban-dvd-directo-berlin-20131126172153.html