El nuevo disco de New Order tendrá unas cuantas sorpresas. Hoy anunciaron que aparte de la colaboración, como ya se sabía, de Brandon Flowers, habrá más artistas invitados.
El tema 6 del disco, "Stray Dog", será interpretado por Iggy Pop; en la última canción del disco "Superheated" estará la voz del cantante de The Killers; y la cantante de electropop londinenese, La Roux, estará poniendo su voz en tres temas: "Tutti Frutti", "People on the High Line" y "Plastic". También se anunció que si bien la producción general será de New Order, Tom Rowlands de Chemical Brothers producirá un par de pistas y Stuart Price el tema de Brandon Flowers.
Music Complete es el primer álbum desde Waiting For The Siren's Call (2005, London). La salida de este trabajo será el próximo 25 de septiembre a través del sello Mute.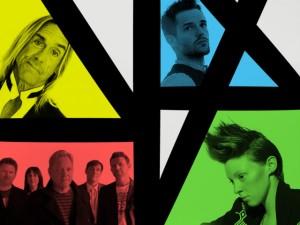 A continuación pueden ver el tracklist y escuchar un pequeño adelanto.
New Order – Music Complete
Restless
Singularity
Plastic
Tutti Frutti
People On The High Line
Stray Dog
Academic
Nothing But A Fool
Unlearn This Hatred
The Game
Superheated